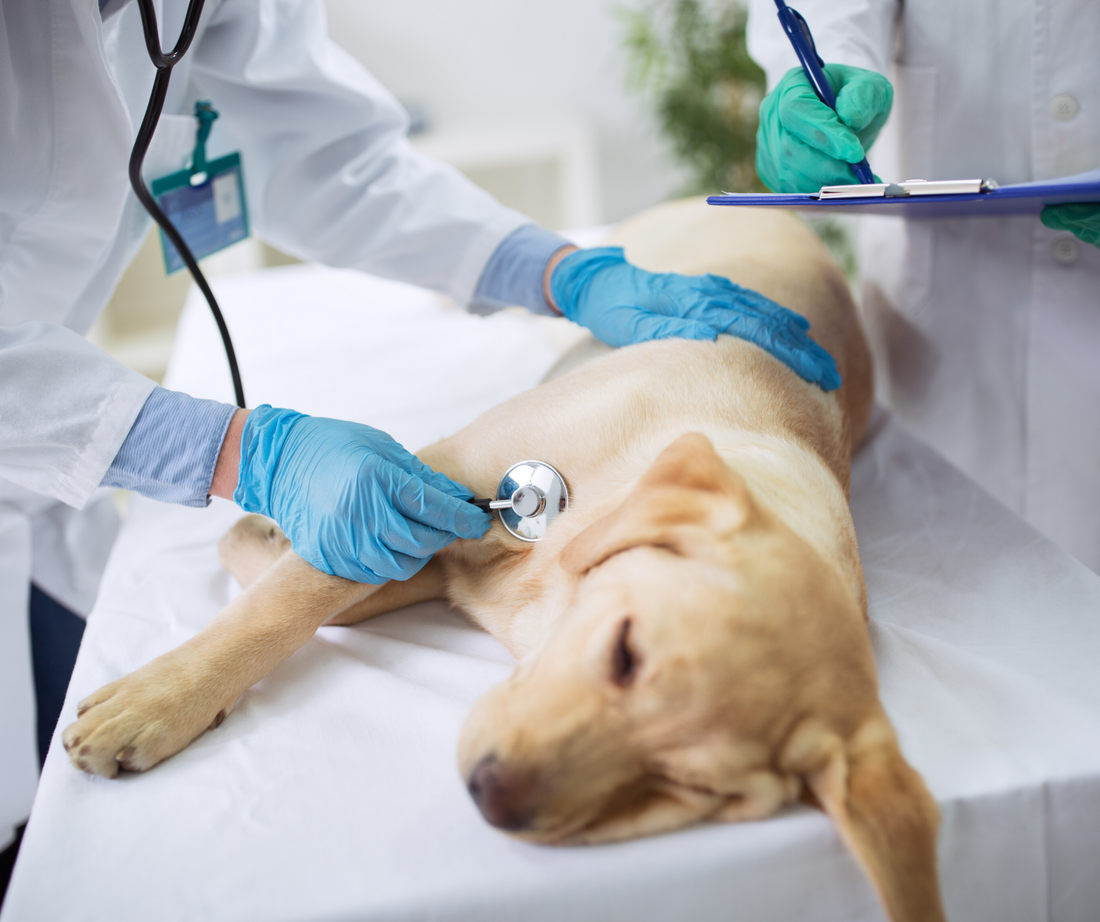 When the Canine Flu hits home
The unthinkable happened to me this spring...a severe outbreak of the canine flu virus (H3N2) and my dogs were right in the cross hairs.  I've written on the canine flu in the past, never thinking it would actually happen to me, but it did.
Tristan not feeling so good with the canine flu :(
All three of my dogs participate in canine sports, so they all regularly attend class, competition and travel events.  Nate, our youngest, is working on his show championship and we set out for the weekend for our first show in a while.  Since we live in Florida, all the shows this time of year are indoors and all the dogs crate up in a central grooming area.  I was staying in a hotel rather than the RV, so for the majority of each day Nate and I were at the show grounds either in the ring, walking around the grounds (when we could stand the heat)! or in the grooming area - which was very close quarters.
We returned from the weekend on Sunday night and by Monday morning reports were surfacing on social media about dogs who had been at the shows in Perry, GA the weekend before were now starting to get sick...some extremely sick and that it was an outbreak of the canine flu.  I am an active member of my breed club and we all began nervously watching our dogs hoping that none of them would become ill over the next few days.  It was first thought that the incubation period was about 3 - 4 days from exposure.  As the week went on...everyone in my house was fine as were my friends' dogs who were at the competition with me. Although more and more dogs were reporting sick from the shows the Perry shows that were the week before.
It was the Memorial Day weekend and we were traveling without the dogs, so when we left on Friday afternoon and everyone was good - I figured we were safe.  We came home just after dinner on Sunday and our pet sitter reported that Nate was slow to eat his dinner - which is very unusual for him.  She said he was great a lunch time, and that he ultimately ate his dinner, but just slowly. 
We got home around 7 and he appeared fine, maybe just a little not feeling good, but otherwise fine.  We settled in for our evening routine and he was okay, just a little sluggish, but I thought he might just have an upset stomach and nothing to worry about.  At around 8:30 I sat down in the chair and he came up to be petted and I could tell he really didn't feel good at all.  His little eyes were closed and he made a little noise that let me know he was not feeling good at all.  I called the sitter again to see if she noticed anything he got into, anything he ate in the yard etc... and while I was talking to her on the phone he all of a sudden gave a deep cough and had yellow mucous coming out of his nose!
I knew immediately what it was...and off to the Emergency Vet we went.  We had to wait in the parking lot and they sent a vet tech out to pick him up and carry him in.  It is so so contagious that they did not want him infecting other patients or the office.  It came up on him very quickly and quite severely.  He is a young and healthy boy, and after antibiotics, fluids, cough medicine and a very rough first night, he turned around and was just sick but not in critical condition for the next 10 days.  And then began the wait for Biddy and Tristan to get sick....and sure enough by Friday they were both coughing and both sick.
Everyone is healthy now but it was a long couple of weeks with three sick dogs in the house.  I felt very fortunate that none of my dogs were critically ill as so many others were. 
So it begs the question...do you vaccinate for the canine flu?  My thoughts?  It depends and talk to your vet.  I learned a lot, a lot, a lot about this virus over my extended time up close and personal with it. 
I found the best resource to be the University of Florida Small Animal Hospital site on canine influenza.  They are at the forefront of the outbreak in both treatment and research.  They are also providing guidance to veterinarians on how to treat and handle the outbreak - so a trusted site. 
To Vaccinate or not to vaccinate?
The vaccine is probably not for everyone, but if your one of those people like I am that participates in canine sports - you should probably have that discussion with your vet.  If you board your dog a lot or he goes regularly to a doggie day care...you should also have that discussion with your vet to see if it is appropriate.  Typically, a healthy dog will become sick but just like a human, get better from a bout with the canine flu.  It is the very old, compromised, and very young that are at the greatest risk.  So your risk is not so much how will your young dog fair, but how will your senior dog that you brought it home to fair? 
So...if you and your dog participate is some of these lifestyle activities:
 Dog Shows
Agility Events
Obedience/Rally events
Regular Boarding/day care
It might be worth  your time to educate yourself on the virus, the transmission periods, how to prevent it through vaccination and how to prevent it through behaviors.  Happy Reading and stay healthy!!!
(And yes..after we all recovered fully we got the first dose of the vaccine.  Next week we will get our booster and we will not be returning to competition until September!) 
We are taking the summer off and training at home.  I have set some pretty specific goals for Biddy, Tristan and Nate...stay tuned for how we do at the end of the summer!
---