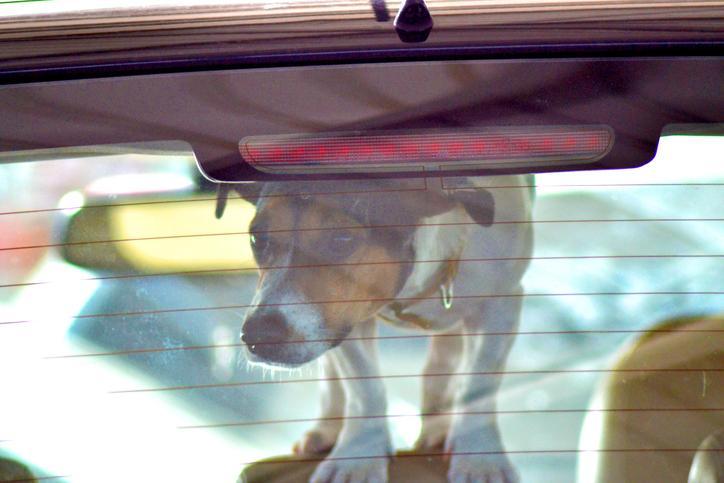 Is Your Dog Ready To Travel When Disaster Strikes? 6 Easy Steps to Get You Prepared.
Summer travel, hurricanes, flooding, fires and other disasters. Is your dog prepared to weather the storm? 
My dogs and I have competed in a variety of canine sports over the years - so long distance, overnight travel with more than one dog is pretty common for us.  However, for most people, especially since the pandemic - travel with your dog is typically a visit to the dog park, the groomer, or other short day trips closer to home.   
These tips will help you and your dog travel long distances - on a planned trip OR in case of an emergency.
**I wrote this a few years back after being just heartbroken by what I saw out on the road when we were evacuating for a hurricane.  Give it a read, and take some time to get yourself prepared NOW - when you aren't in the middle of an emergency.  Your dog will thank you for it!
Here are my best tips for having your dog travel ready (emergency or not):
 1.  
Keep a Bag Packed and Ready
Here is what I keep in my "Dog Bag" all the time:
Vet/shot records

stored in a plastic bag/zipper pouch

Extra

roll of waste bags

Extra

leash and collar set-up
Brush

1/4 roll of

paper towels

(accidents always happen)

1 Week

supply of dry food
Flashlight

/light up collar

 (click here for a list of the best ones!)
Medications

/instructions
I use an old tote bag and it just stays packed in the laundry room at all times. I periodically refresh the food and the collapsible bowl doubles as both a food and water bowl. I treat this as a "diaper bag" for my dogs, always ready and it goes with me whenever we travel
2.  Water, Water, Water
Know how much water your dog(s) go through in a day and plan to have enough. My three medium sized dogs go through a little over a gallon a day. Warm weather and tough conditions are already enough stress on your dog, make sure hydration isn't one of them. Plan on taking more than you need and have a plan for getting access to more each day. Do you have a big enough jug to fill up? I also always keep an empty jug in the back of my car to fill up on the road in case I need it.
How will you get this water to your dog?  A collapsible water bowl or metal water bucket with a snap-on clip that will hook to the inside of your dog's crate while you are traveling works best.  If you are on the road for a full day, you want your dog to have access to water when they need it, not just at a stressful potty break.  
3.  Containment
This one is so important! Not everybody has a car that will hold a crate.  If the proper size crate for your dog won't fit into the back seat of your car, find the best way to restrain your dog safely and get a collapsible crate.
I always have a collapsible crate for each dog. Even though my vehicle is big enough to house the hard plastic kennel type crates in the back. These crates are super bulky and hard to get in and out of the car, into a hotel, all while holding the dog at the same time, especially if you are traveling solo. 
The Best Set-Ups - Why you need these 2 things:
                                 OR
Either of these setups will allow you to keep your dog secure while you get things in and out of the car and safely into a hotel room. When you are traveling alone or with multiple dogs (or both) it is really important to have the ability to keep your dog secure when you are loading and unloading. Even if your dog is great when you are going on little trips around town… it is a whole new ball game when you are stressed and your dog has spent an entire day on the road. Dogs that normally stay put in the seat may have a tendency to bolt or jump out. I saw a lot of this on the trip.
A Good Car Harness
There are lots of great harness systems out there that will keep your dog safe and secure in the back. Your dog is already nervous. Keep him harnessed in so that you and your family can get in and out of the car without risking your dog getting loose at a rest stop or gas station. On this last trip I saw no fewer than 9 dogs loose at extremely crowded rest stops… frantic dogs and owners, don't let this be you.
A Collapsible Crate
Either a soft or wire collapsible crate that will fit in the trunk, back or luggage rack when folded up. The collapsible type is also easier to carry than the hard plastic kennel type crate when you are trying to get yourself, your dog and all of your stuff into a hotel room. Once you get to your stopping place, this allows you to safely and securely keep your dog contained.
Dogs are den animals and will find comfort in a crate especially when they are in unfamiliar places. Even if your dog is used to sleeping on the bed, when in an unfamiliar place, like a hotel room with activity outside the door/hallway, a crate will keep him safe. In the event that you have any type of vehicle problems, a crate will allow you to keep your dog safe and secure while you wait for help or get your vehicle fixed. If you get the soft crate – don't forget to use the locking zipper and never underestimate your dog's ability to get out of a hotel room - the crate is your friend.
During an evacuation pet friendly hotel rooms are often in short supply.  Being able to tell a hotel manager that you will crate your dog overnight is often the difference maker.  Help your dog put his best paw forward.  A strange place overnight is really stressful for your dog - and they can respond with unwanted behaviors that they don't do at home (barking, going to the bathroom inside). 
4.  Shine your Light
I keep these two things in my bag all the time – a small flashlight and a light up/reflective collar for the dogs. Small is the key word here… remember, you will be holding a dog in one hand, a waste bag and a flashlight in a dark place you haven't been before. Think small with a bright light! I also have a light up collar for the dogs. I keep it sized so I can just slip it over their head in addition to their regular collar when we have to walk at dawn or dusk in an unfamiliar place
5.  Planning the trip
Think about how you will handle the logistics of traveling with your dog ahead of time. Are you traveling alone? How will you handle bathroom breaks, meal breaks etc? It isn't so hard to plan this out if you have one small dog, but if you have more than one or a larger dog – you need to think it out in advance.
Is This a Good Place to Stop?
Where will you walk your dog? Are there rest stops with a grassy area? If I am exiting the highway, rather than stopping at a gas station, shopping center or restaurant, I will usually drive just a bit in to find either a church or a school. Schools for weekend travel, churches for weekday travel. They will typically have a parking lot with a grassy area and a lot less traffic. If your dog isn't used to traveling, a gas station or busy store parking lot can be very stressful.
After each break, think about how long your dog can comfortably go before you will need to stop again. Use your smartphone and check ahead for exits, rest stops or other dog-friendly places to stop to give your dog a quick break. Proper planning ahead gives your dog a potty break at a nice quiet, grassy place. Lack of planning and you are pulled over on the interstate with your dog off the shoulder of the road… again, don't let this be your dog
6.  First Aid
Do you have a first aid kit for your dog? We always keep one in the RV and another in the car. Just the basics – but be ready to handle a minor cut, insect sting, upset stomach or other minor health issues. You can purchase one already put together or just make one yourself from things you have. Here is a good list of things to put in your First Aid kit for your dog.
Don't Forget
Double check all your information on your

dog's microchip record

.

Have you changed your phone number or address since you got your dog chipped?

It is a quick and easy update!

Make sure you have a

tag on your dog's collar

Put a

name tag on your crate
Skip the fashion collar and stick with a durable snap-on collar. Make sure you have a nameplate or tag securely fastened to the collar, with your name and cell phone number. I have the word "Microchipped" on the back of the tag so they will know my dogs are chipped. Most crates have a plate on the front for a name tag. Even just duct tape and a permanent marker on this plate will work.
What If You Can't Take Your Dog
If circumstances dictate that you cannot take your dog in the event of an evacuation, have a plan in place. Check with your vet or local shelter. Many are evacuation shelters with generator back-up, and you can take your dog there. However, you most likely will need to have all these arrangements in place ahead of time. If you know you won't be able to take your dog – make these emergency plans now so that you have a safe place for him during the emergency.
I saw so many dogs in distress during our last hurricane evacuation… don't let this be your dog! Have a disaster plan in place for your dog. Get everything ready and in place now, so that in the event that you need to use it… your best friend will be well taken care of.
---