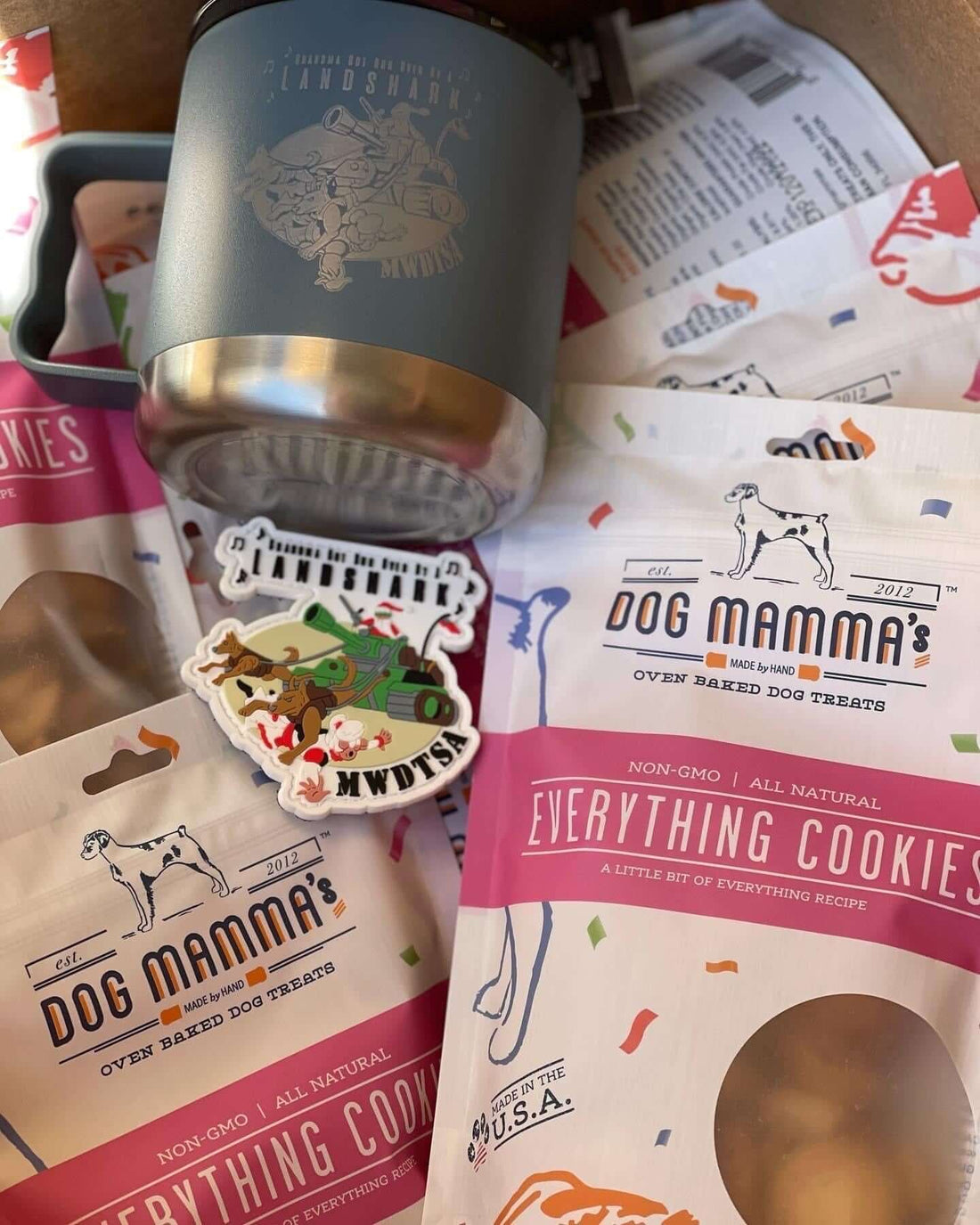 Cookies for A Cause ~ Supporting our Military Working Dog Teams
Dog Mamma's Everything Cookies and Cookies for a Cause ~ what's it all about?!?
Every time we bake, there is a portion of cookie dough that is left over between recipes - that would normally just get thrown away.  Each time we bake, a little of one recipe will get mixed with little of another recipe when we start a new batch. 
Rather than waste this crazy mixed up cookie dough, we decided to bake them up, give them a name, and put them towards a good cause - and just like that - Everything Cookies were born! 
We began looking for a worthy partner to donate our Everything Cookies to - and thru social we found Military Working Dog Team Support Association, Inc ~ and we knew we had the right match!
We are honored to support MWDTSA in their care packages several times during the year. 
MWDTSA is an all volunterr, non-profit that supports Military K9s and their handlers in the Army, Navy, Air Force, Marines and Coast Guard. 
Here is what they do:
Send quarterly care packages to MWD teams deployed in global combat zones.
Boost morale with stateside military kennel visits.
Promote veteran causes and memorials, including recognition of retired military K9s.
Host events to educate the public about the importance of MWD teams.
Our Everything Cookies have just started going in their quarterly Care Packages.  (There they are with K9 Bodo!)
Military Working K9 Bodo - he loves his new shirt!!
This amazing group of all volunteers has been meeting the needs of our K9 service teams since 2006 and was co-founded by a Vietnam Veteran.  I encourage your to click here to read more about MWDTSA and for sure follow them on Facebook or Instgram.  
You will be amazed and humbled by the work that our K9 and handler teams do, and their unwavering service to our country. 
It is our honor to be able to support MWDTSA in a small way.  If you would like to support our K9 teams, visit their site for a link to the Amazon Wish List and ways to donate.
We thank you for your service to our country!  
---