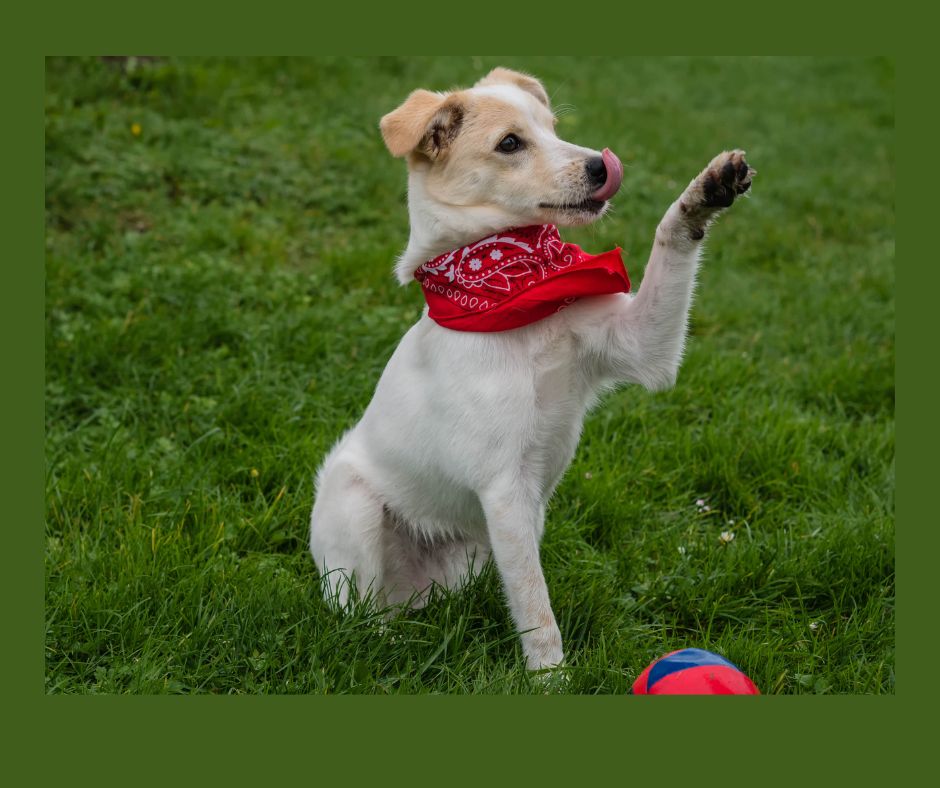 3 Tips for keeping your senior dog young at heart
This article was previously published by Kathryn Durno on 4Knines Blog
Can sports and games help your senior dog stay young at heart? 
Our senior pets need regular exercise, mental stimulation and regular social interaction with other pets and/or people. While they might not be up for the endless games of fetch, they still need the right level of exercise and mental stimulation to keep them young at heart.
Canine Cognitive Dysfunction Syndrome (CDS) is a common issue for senior dogs that is very similar to Alzheimer's disease in humans. Symptoms can range from forgetfulness of familiar trained tasks, to disorientation, restlessness or barking for no reason. While we can't turn back the hands of time, just like with humans, we can help our senior pets by keeping their brains sharp and active, with easy, fun training games. Mental stimulation, proper and appropriate exercise, and regular social interaction with other pets and/or people can help your senior pet stay young at heart.
If you don't use it, you lose it!
While their trail running days may be over, don't let your dog just sit on the couch day and night. Provide your best friend with plenty of mental stimulation. This can be just easy things such as changing up your regular walk route (or going on a short one if you haven't been out in a while), to trying any number of fun puzzles. Easy dog puzzles that can be used all the time are Kongs, or kibble dispensing balls and cubes. These are quick, fun and a great way to make your dog exercise their brain just a little for their meals. These are inexpensive and you can find one at your local pet store today.
Then there are the more challenging puzzles – moving levers, sliding cylinders and wheels, and pushing buttons to retrieve their food. A quick search on the internet for dog puzzles and you will see there are many, many choices out there! While they can be a little pricey, they typically last for a long time and are tremendous brain teasers for your dog (and sometimes even for you to get the treats loaded in!). It is awesome to watch your dog progress to the most difficult level of a puzzle over time.
We often think of obedience and training classes as something for just young dogs and puppies – but adult dog classes can go a long way. Research has found that dogs that participated in adult training classes were less likely to develop CDS.
So while your senior dog may not be up for agility, here are a few very fun and popular classes that you and your senior pup might enjoy:
Rally
Rally is fun, fun, fun, and both you and your dog really need to think! It is perfect for senior dogs (and handlers too!) since there isn't any running or jumping involved. In a nutshell, you and your dog navigate a series of rally signs on a course. The signs direct you to do a variety of activities such as turns, heeling patterns, changes of speed, spiral turns, halt and other basic obedience moves. Some of the signs are quite complex, but the focus is on team work, communication and interacting with your dog. It is typically done indoors with your dog on a leash to start.
Once you become more advanced, a lot of the work is off leash. Rally keeps both you and your dog engaged and challenged in a fun, social environment without being physically taxing on either one of you. You can compete for titles in Rally or just do it for fun. It is a great way to get your dog out of the house and into a different environment, give him a mental workout and spend some great time bonding.
Noseworks
Over the last several years Noseworks has evolved from just a fun game, to an actual sport with titles for your dog. This is a great brain game for your dog and is often used as an enrichment activity for shelter dogs who need a change of pace. K9 Noseworks harnesses the power of your dog's nose and their ability to find a scent – it is perfect for dogs of all ages and sizes.
Did you know that dogs have four times the brain power devoted to processing scents?
Practicing Noseworks is a wonderful way to provide your dog with mental and social stimulation. In this fun game, specific scents or odors are hidden in a small box and your dog has to sniff until they find them. Typically your dog will start with something familiar like a yummy smelling treat that they know. It is placed in a small sturdy container with holes, and then hid. A first time hide is usually in a series of larger cardboard boxes. Your dog needs to search and sniff around until they find the box with the treats. As they progress, the hiding places become more complex as do the scents. They gradually will begin to train on scents such as birch, anise or cloves. While it sounds rather odd… again, this is fun, fun, fun for your dog and exciting for you to watch him try to find it. This class is usually done indoors, with a group, one dog at a time.
Pet Therapy
Dogs and their humans that do pet therapy are special pairs. It is a volunteer activity, where through a group you and your dog make scheduled visits to nursing homes, schools or hospitals. This is one of the most rewarding things you will do with your dog – and is perfect for senior dogs. Once you find a Therapy Dog group near you, you and your dog will need to become a registered team. This is typically an obedience test similar to the Canine Good Citizen test. There are several Therapy Dog registering organizations where you can have your dog evaluated. These volunteer hours that you and your best friend spend together will be cherished time – and you will be amazed at how intuitive your dog is to those that are in need. It fits the bill in more ways than one for social interactions for your dog.
Other Tips of Maintaining Your Senior Dog's Health:
Maintain a regular schedule with your vet
Practice good dental hygiene and keep their teeth clean
Is your pet a little pudgy? Try to help them lose just a little weight… remember YOU control the food and treats, just a little less each day and they will drop the excess weight.
A regular, easy exercise schedule
Keep their nails short – long nails put stress on your dogs feet, alter their gait and can cause balance and movement issues as they age.
---