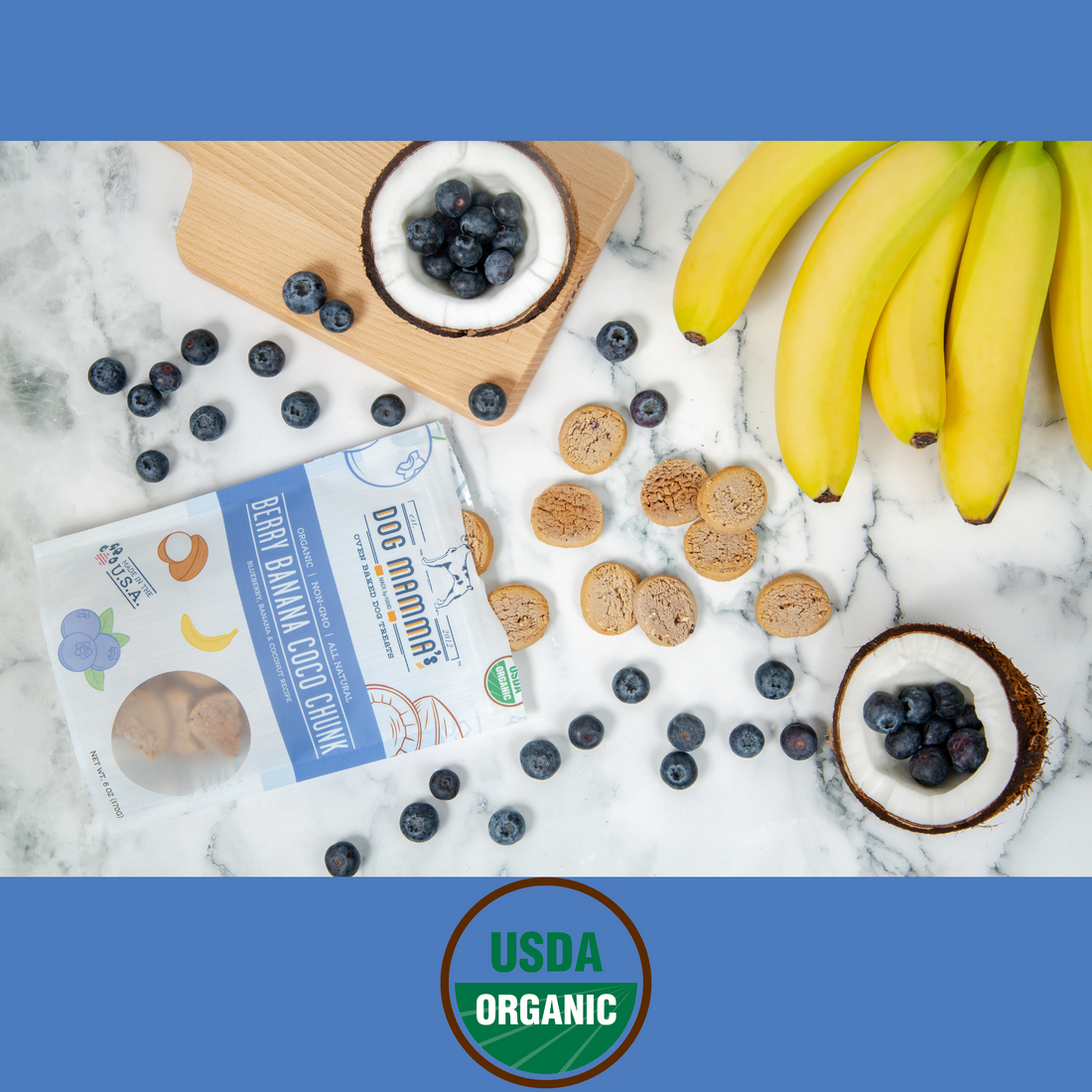 3 Reasons to Feed Your Dog Blueberries
Are blueberries good for dogs? 
Yes!  Blueberries are perfectly safe for dogs of all ages and sizes to eat.  
It is no secret that blueberries are healthy for humans...and for many of those same reasons, they are good for your dog too.  But why?
It is all in the color! 
According to the American Kennel Club, blueberries are low in calories and contain high amounts of vitamin C, fiber, and phytochemicals (naturally occurring chemical compounds found in plants). Vitamin C and fiber are vital components of proper canine nutrition. Phytochemicals are linked to several aspects of health, including the ability to fight cancer in humans.
The beautiful dark blue, red and purple hue that makes the blueberry so unique is also what makes it such a nutritional powerhouse.
Blueberries are loaded with anti-oxidants and specifically, a special class of anti-oxidants known as Anthocyanins.  These dark blue, red and purple hues in the blueberry are what produces the anthocyanins.
Blueberries can give your dog a boost. 
Anthocyanins play an important role in protecting your dog's blood vessels and lowering blood pressure.  They are also high in Vitamin C, Vitamin K, Manganese and fiber. 
Improved Brain Function
Blueberries can help maintain brain function and improve memory.   Blueberries appear to benefit aging neurons, leading to improved brain functioning as our dogs age.   Studies have shown that our dog's cognitive function can be improved by adding food that are rich in anti-oxidants, such as blueberries, to their diet. Blueberries are an easy way to add anti-oxidant rich foods to your senior dog's diet.  
Reduce Inflammation
The high levels of anti-oxidants in blueberries are the key to helping your dog's body reduce inflammation.  The anthocyanins in blueberries play a critical role in reducing chronic inflammation, which can lead to disease.  
The anthocyanins in blueberries also have beneficial effects on your dog's insulin sensitivity and glucose metabolism.  Just like with humans, obesity and diabetes are linked and have negatives impacts on your dog's health.   
Reduce Muscle Soreness
Research has also indicated that eating blueberries may reduce muscle soreness and damage that occurs at the molecular level after your dog has engaged in strenuous exercise and activity.
Treating your dog to blueberries
Blueberries are a healthy little snack loaded with nutritional benefits for your dog.  Just like humans, replacing heavily processed artificial foods with fresh, wholesome foods will go a long way to benefit your pet's health.  
Due to their small size, blueberries are the perfect small snack to use when training or just a small handful of berries mixed in with your dog's regular food. 
Treat your dog to something better today.  Grab a bag of Dog Mamma's Organic Berry Banana Coco Chunk today! 
---