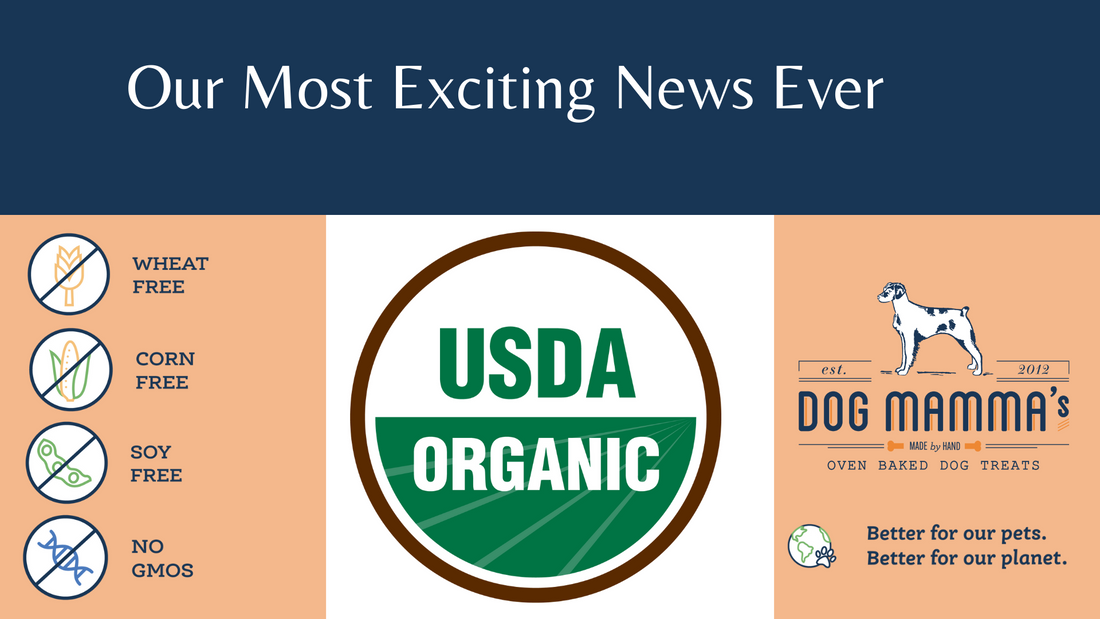 Why USDA Organic Certification Matters
We announced in July that all of our recipes are now USDA Organic Certified.  
I've always believed in being able to "Walk the Talk" - and when it comes to using words like "natural", "organic" "clean" and our pets - unfortunately, there is a lot of "talk"
I wanted to be able to back up my words with the authenticity of a 3rd party certification.  I say it often -
"Clean Eating for your dog... Peace of Mind for you."
Clean eating for your dog means that from the farm, to the bakery, to your door - we have ALL committed to abiding by the rigorous guidelines set by the USDA National Organic Program (NOP).
It means that no harmful pesticides or synthetic fertilizers were used on the plants and soil that your dog's treats were grown in.
It means that there are no artificial ingredients, no processing agents, no colorings or chemicals used when we bake your dog's treats at the bakery.
It means that all of the cleaning, sanitizing and storage practices at the bakery follow the guidelines of the National Organic Program.
It means that we only use human grade ingredients, our baking facility undergoes a rigorous certification process, and we NEVER use any GMO's.
It means that we can trace each and every ingredient to it's source on the farm, to the bakery to your door or a retailer's shelf. 
I've believed for a long time that many of the food allergies and health issues experienced by our pets are driven by the addition of all of these harmful elements in their diet.  That these sensitivities aren't necessarily to a particular item but to how that item was farmed and processed before it ends up in your dog's bowl.  (I believe these same things to be true for us too!)
So can we do better for our pets and ourselves? 
You better believe we can!!
We are on a mission to improve your dog's wellness by baking a better treat.  One that is loaded with only healthy ingredients, all farmed and baked using sustainable, traceable, CLEAN ingredients.
One small change to something better can make a big difference in the health and well being of our pets. 
We are committed to our journey of making USDA Organic Certified an EXPECTED choice for our pets, rather than an exception ~ an we hope you will walk with us on this journey.
---